In wake of problems being faced by the border villages along Line of Actual Control (LAC) in Ladakh, councillor of Ladakh Autonomous Hill Development Council (LAHDC) Konchok Stanzin met Union Defense Minister and appraised him about the issues concerning people.
In a memorandum, Stanzin who is the councillor from border area of Chushul said that connectivity has become an essential commodity, more so for the villages at zero borders. "In absence of reliable internet connecting these villages to the mainstream India, we feel neglected and digital India programme will fail in its primary aim. The Covid-19 has immensely disadvantaged our student's community in terms of access to education. Many students and their families have shifted cities like Leh for want of internet to attend online classes".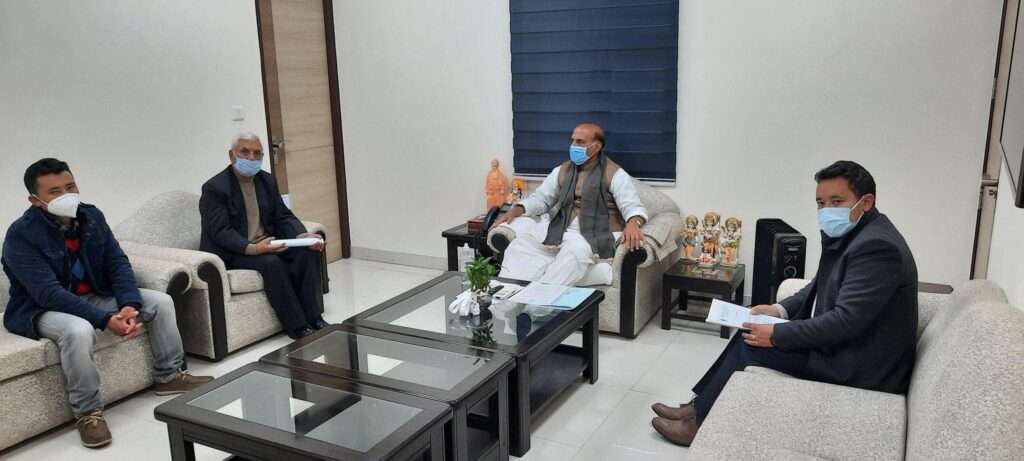 People shifting from border areas to cities are not a good sign from security point of view as well, he stressed.
"It is humbly submitted that all the border villages need to provide the same opportunities and facilities as urban centers in terms of health, education, sports, infrastructure, clean tapped water and electricity" he stated in the memorandum.
Also Read: 7500 MW solar power project in Ladakh under cloud of uncertainty
Stanzin also highlighted the problem of electricity in these border villages. "Electricity is one of the basic needs in the modern world. In order for other amenities to work, electricity has become essential. The present installed solar power plants in Chushul constituency hardly generate 2 to 3 hours of power leave aside running TVs, washing machines among others" he stated.
Phobrang village is a revenue village which comprises three hamlets namely: Lukung, Yourgo and Phobrang having a population of over 650 people.
Stanzin said that the shepherds earn their livelihood via their livestock by producing world's finest Pashmina and Yak wool. "While the Chinese use their nomad community to transgress on our land in a step-by-step approach, the movement of nomads belonging to this side of the border are restricted by Indian army from grazing their livestock on the traditional pastureland" he informed.
Also Read: Indian army orders fast patrol boats for Pangong Tso
Stanzin further stated "We submit that, we nomads on Indian side are soldiers without uniform. The Indian army must trust us by not restricting our movements relating to grazing. In this regard, we kindly request it to grant permission to move our shepherds with their livestock into traditional pastureland as there is no substitute available in and around the village resulting in mortality of livestock and loss of income to villagers".