When India was celebrating its 72nd Republic Day, protesting farmers turned violent and what followed after could not be called less than a riot. Rioters injured 394 police personnel with more than 80 still admitting to hospitals across the capital. They recall that they were attacked by protesters carrying swords, lathis, glass bottles and chains.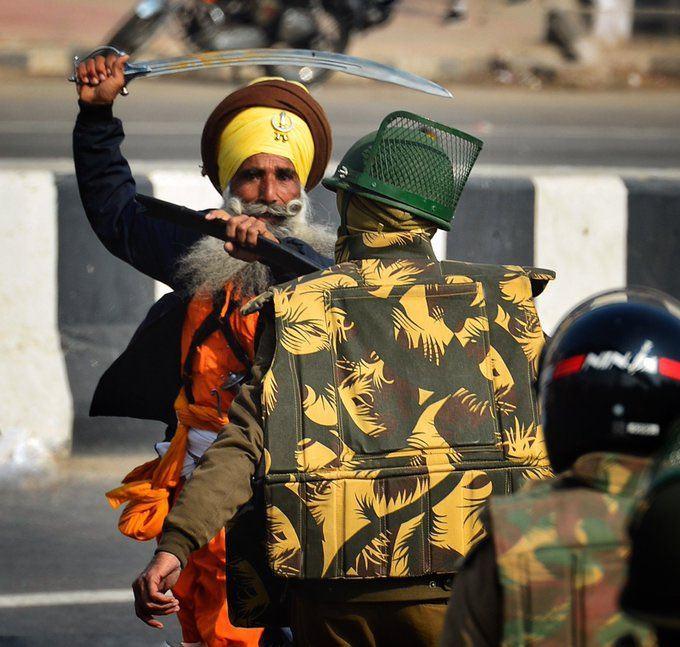 The Delhi Police has registered 33 FIRs. These FIRs also mentions over 30 of the 40 farm union leaders who were engaged in the discussion with the Centre regarding farm bills.
Inspector Anil Kumar has filed a complaint mentioning 37 farm union leaders, including six spokespersons of the Samyukta Kisan Morcha (SKM). An FIR has been registered at the Samaypur Badli police station, in Outer Delhi, on the basis of complaint.
The FIR lists rioting, criminal conspiracy, attempt to murder and robbery as crimes committed by these people. The FIR says that the rioters/ protesters and their leaders already pre-planned that they will not follow permitted route and as a result, the violence took place.
On Thursday, a group of local residents arrived at the Singhu border and demonstrated their opposition against the farmers' agitation. They were demanding that the inter-State highway should be cleared.
Mahesh Chauhan, a resident of the Palla village, said that it has been more than two months since the road has been blocked. Nearby villagers have to face problems because of this protest for such a long time. He said that the villagers are demanding the road to be cleared. A large number of villagers will gather to protest if their demands are not heard and the road is not cleared.
PDP chief, Mehbooba Mufti, termed the violence on Republic Day as "a conspiracy" to defame farmers. She told media that the main person behind Republic Day protest is a member of BJP.
Haryana government has suspended mobile internet services in Sonipat, Palwal and Jhajjar.
On Thursday, Ghaziabad administration issued orders to protestors to vacate Ghazipur protest site by midnight. The administration said that they are ready to vacate the site. However, the farmers have refused to vacate the ground as Bharat Kisan Union President Rakesh Tikait declaring that he can even face bullets.
The ANI has reported that Uttar Pradesh government has ordered all DMs and SSPs of the state to make sure that all the farmers' protests are ended.
Two farmer unions – Bharatiya Kisan Union (Bhanu) and Rashtriya Kisan Mazdoor Sangathan have withdrew from the agitation. Thakur Bhanu Pratap Singh, Bharatiya Kisan Union president, said that he is deeply hurt by the incidents that took place in Delhi on the Republic Day. He also announced to withdrew from the protest.
VM Singh, Rashtriya Kisan Mazdoor Sangathan, said that he and his organization can't continue a protest with people "whose direction is something else".