Pashmina is exported hugely by Ladakh but not as finished products but rather as a raw material. Ladakhis are aware how to spin and weave but there was a shortage of employment in this sector.
Aslow-textile label by the name of Lena is changing that. The label is set up by Sonam Angmo (31) and Stanzin Minglak (32) with an aim to revive Ladakhi art or weaving and colouring.
Both the Minglak and Sonam were born in Ladakh and met in Delhi during their college days. Sonam pursued her Masters from Delhi University in Biotechnology while Minglak got her graduation degree in Delhi University in Environmental Studies and then received her Masters degree from Pune University.
Sonam's thesis was related to the migration of the Changpas who are the residents of Changthang, the major suppliers of raw Pashmina. She was thinking about what to do after her Masters when her father, an employee of the Handloom Department in Ladakh asked her to think of a career in textiles. She was not ready at first. She did not know anything about a business and had reservations of her own. But then, with Minglak she went and met the artisans and weavers and built their network from scratch.
Minglak's father helped the young women with basic training when he was a Superintendent at the Handloom Department. Many women take training from the Handloom Department but there is a lack of scope in this profession. Ladakhi Pashmina is different in look and feel.
Kashmiri pashmina, which is more popular, is thinner in comparison to the Ladakhi. The Ladakhi Pashmina is thicker and is often misidentified as wool.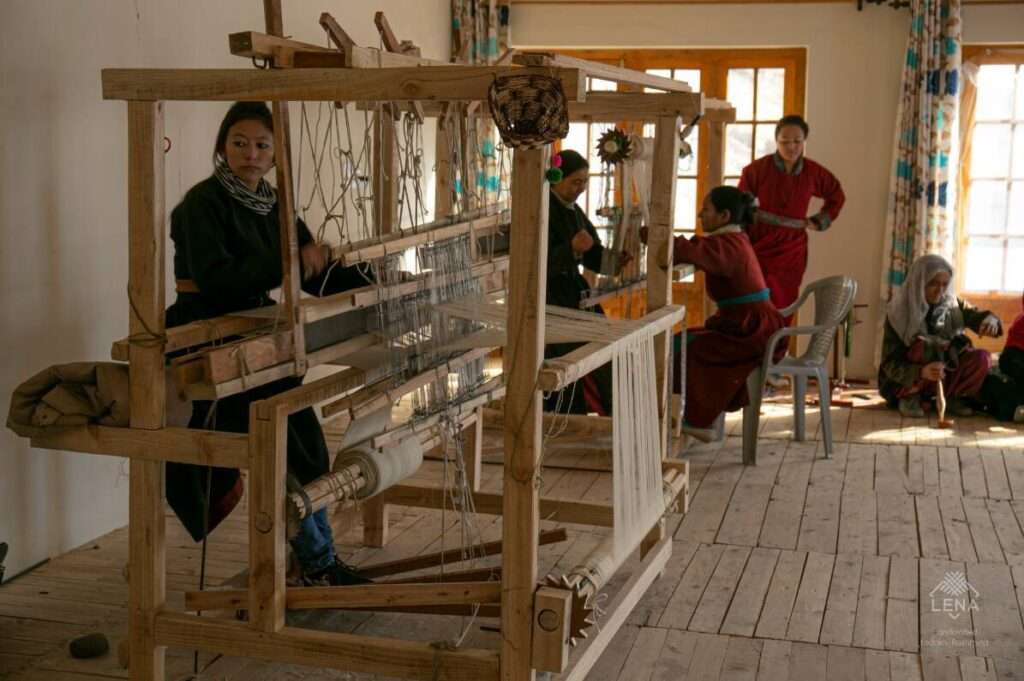 Minglak said that in the age of machines, "we are trying to save the art of handlooms and use fly-shuttle looms". She said that they also use natural colours. Both said that from spinning to weaving and colouring, every part of the process is done by the hands in an eco-friendly way.
The women of the community have been trained in weaving at a basic level, but there had no major source of employment in the past but since the launch of their label, the duo provided a lot of women employment.