Last Updated on August 17, 2021 at 6:13 pm
University of Jammu has asked its employees who have been vaccinated to start attending office with immediate effect.
"In continuation to , University Orders bearing No: PA/REG/21/602-52 dated 02.08.202021 and No: PA/REG/2021/578-95 dated 31.07.2021; it is once again impressed upon all the employees that they must start attending their respective Offices in full strength with immediate effect" the order reads.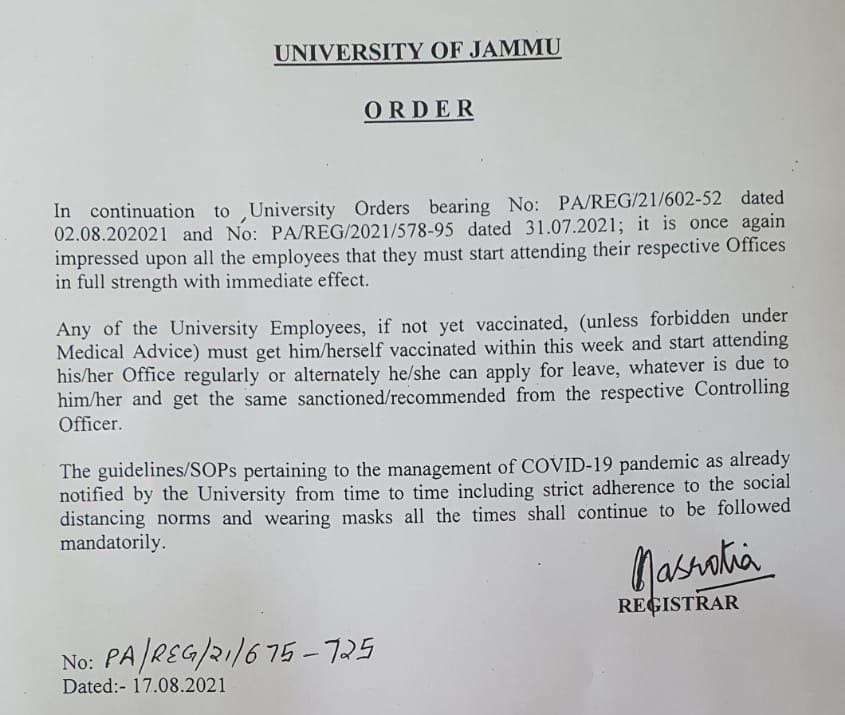 It further reads, "Any of the University Employees, if not yet vaccinated, (unless forbidden under Medical Advice) must get him/herself vaccinated within this week and start attending his/her Office regularly or alternately he/she can apply for leave, whatever is due to him/her and get the same sanctioned/recommended from the respective Controlling Officer".

The guidelines/SOPs pertaining to the management of COVID-19 pandemic as already notified by the University from time to time including strict adherence to the social distancing norms and wearing masks all the times shall continue to be followed mandatorily, the order states.