Last Updated on April 26, 2021 at 3:02 pm
Consequent upon Government Order No.23-JK (DMRRR) of 2021 dated 24.04.2021, issued by the \ Member Secretary, State Executive Committee, Department of Disaster Management, Relief, Rehabilitation & Reconstruction (State Executive Committee), Govt. of Jammu & Kashmir vide endorsement No: DMRRR/PS/Secy/551/2020 dated 24.04.2021, Jammu University has notified for the information of all concerned that the attendance of Non-Teaching staff i.e, below the rank of Assistant Registrar and equivalent pay band positions, shall be restricted to 50% only w.e.f, 1″ May, 2021, till further orders.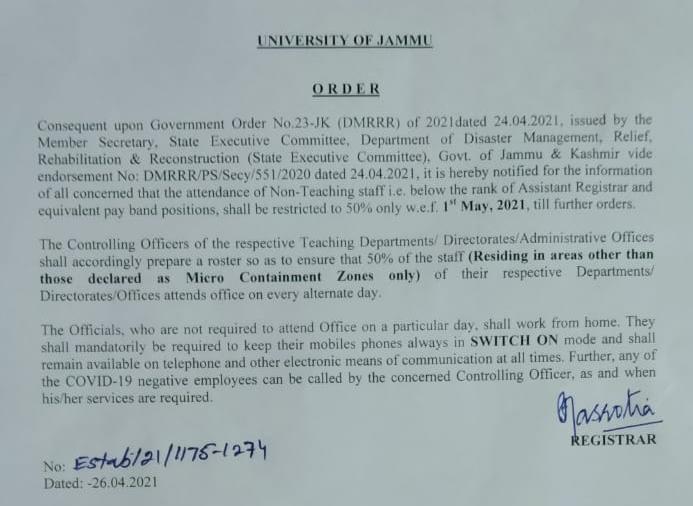 The order states, "The Controlling Officers of the respective Teaching departments/Directorates/Administrative Offices shall accordingly prepare a roster so as to ensure that 50% of the staff (Residing in areas other than
those declared as Micro Containment Zones only) of their respective Departments' Directorates/Offices attends office on every alternate day".
"The Officials, who are not required to attend office on a particular day, shall work from home. They shall mandatorily be required to keep their mobiles phones always in SWITCH ON mode and shall remain available on telephone and other electronic means of communication at all times, Further, any of the COVID-19 negative employees can be called by the concerned Controlling Officer, as and when his/her services are required" the orders read.