Last Updated on January 16, 2022 at 4:41 pm
Jammu and Kashmir is not only known for its scenic beauty, snow-capped mountains but also have lots of unique things and items in its lap which tourists and travelers can buy and take away at their homes. J&K offers one with best of its handmade items, designer jewellery and lot of many other things which are rare and unique.
Here are five things which one must buy from J&K-
Traditional/Kashmiri jewellery-
Known as the jewellery crown of India, J&K has its own unique and different way of accessorizing the jewellery. The craftsmen of J&K are gifted with the art of making jewellery with silver, stone and gold. Kashmiri pieces of jewelry are handcrafted with the utmost care and love to provide a really rich and stunning traditional appearance. Srinagar is the main spot for precious and semi-precious jewellery and is loaded with traditional as well as modern designs. Most of the jewellery is custom made to meet the demand of the ever increasing market. Famous jewellery items of J&K are circular earrings called Kundalas, anklets worn by the rural women in Jammu are called as Nupura, Chaunk Phool, Tika, Balu is the nose ring and band/kada is a fine gold filigree wrist ornament/bangle, usually adorned by the women of Jammu. Alka-hor is a type of ear jewellery that rests over either ear and is connected by a chain running over the head. Women in Kashmir pair Alchor with the Kashmiri traditional dress. Deji-hor is a type of traditional Kashmiri earrings that hangs on a silk thread/gold chain. There is much other such variety.
2. Dry fruits-
There is a wide range of dry fruits which Kashmir has offered to people such as Almond, Walnut, Cashews, Hazelnuts, and Figs are the most popular ones. One can find the best quality dry fruits in J&K and are used to gift in many occasions. Almond is a complete food with different types of healthy fats, minerals, vitamins, calcium, carbohydrates, proteins, fibers and others. Kashmir is gifted to be the only region in India where the walnut tree grows and one can have super healthy and tasty walnuts.
3. Saffron-
In the late autumn in Kashmir villagers around Pampore which is also popularly known as the saffron town of Kashmir picks up the delicate flowers to fill their wicker baskets. Saffron is the stigma of the fall-flowering crocus. These stigmas are worth thousands and are therefore one of the costliest spices in the whole world. Saffron goes in everything- good and pure in Kashmir. The dark red colour with long perfect strands is beautiful and is colourful and flavourful.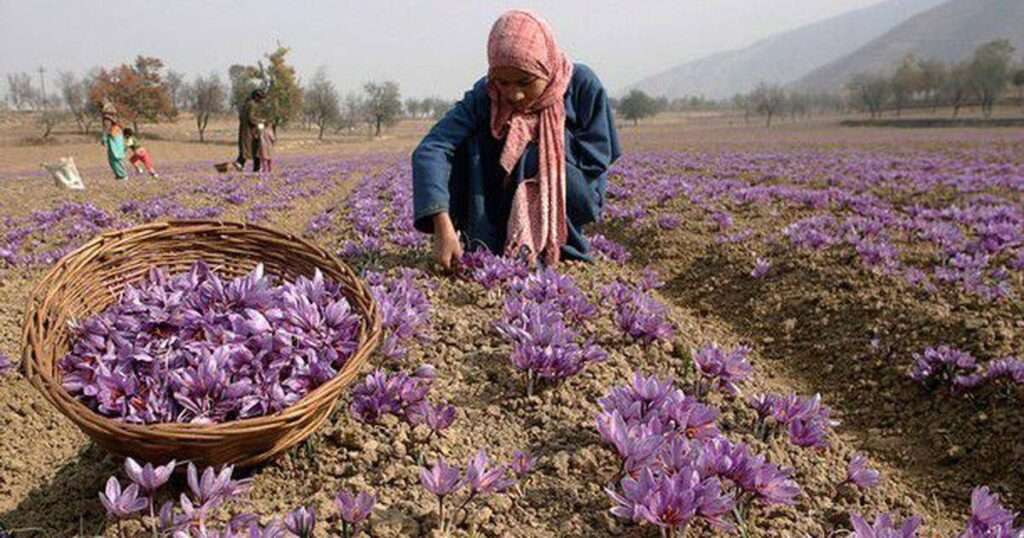 4. Noon chai leaves-
One of the traditional beverages is 'noon chai'or a pink-coloured special Kashmiri tea. This tea has bunch of health benefits such as reduction of risk of cancer, diabetes, heart disease, tooth decay, cholesterol, skin care, controls the blood pressure, depression, fight influenza, weight loss. It is made with gunpowder tea (green tea leaves rolled into small balls), milk, sea salt and baking soda. The word "noon" means salt in several Indian languages. This tea can be bought at almost all the local stores which sell dry fruits and spices.
5. Kashmiri Chilli-
Kashmiri chilli helps to give food a vibrant and flavored taste and gives a colorful look to the food. The dried Kashmiri chilies are available around the year and can be brought from any town in the valley. The red chilli have a strong pungent taste, bright red colour and does give a spicy fiery flavour to a dish.