Last Updated on June 11, 2023 at 9:48 pm
Jammu & Kashmir and Ladakh, the northernmost UTs of India, are renowned for their picturesque landscapes, enchanting valleys, and captivating cultural heritage.
While popular destinations like Srinagar and Leh attract hordes of tourists, there are several lesser-known treasures waiting to be explored. We will uncover 14 unseen places in Jammu & Kashmir and Ladakh that offer a unique and off-the-beaten-path experience and can boost tourism in both the UTs.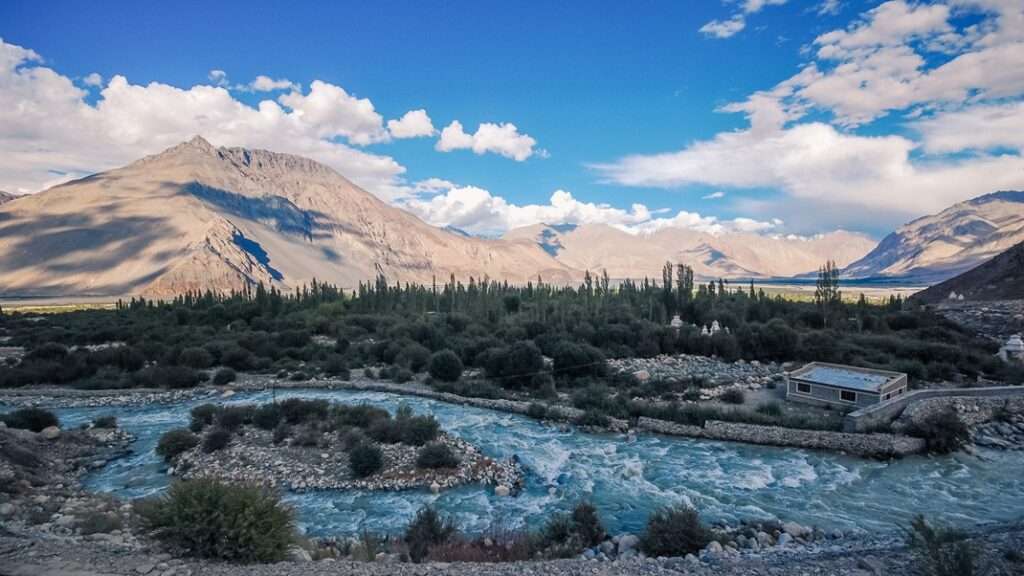 Gurez Valley, Jammu & Kashmir: Tucked away in the high Himalayas, Gurez Valley is a hidden gem offering breathtaking views of snow-capped peaks, pristine meadows, and the meandering Kishanganga River. This untouched paradise is perfect for nature enthusiasts, trekkers, and those seeking tranquility away from the bustling crowds.

Dras, Ladakh: Known as the "Gateway to Ladakh," Dras is a scenic valley nestled amidst towering mountains. It holds the distinction of being one of the coldest inhabited places in the world. The town's rugged landscapes, glistening glaciers, and the magnificent Tiger Hill make it an ideal destination for adventure seekers and history buffs.

Tso Moriri Lake, Ladakh: Tso Moriri, located at an altitude of over 4,500 meters, is a breathtaking high-altitude lake in Ladakh. Surrounded by snow-capped peaks, this pristine blue lake offers a serene and awe-inspiring setting. It is a paradise for birdwatchers, as migratory birds flock here during the summer months.

Zanskar Valley, Ladakh: Accessible only for a few months during the summer, Zanskar Valley is a remote and isolated region that remains untouched by modernity. Its rugged terrain, frozen rivers, ancient monasteries, and traditional way of life make it an enthralling destination for adventure enthusiasts and cultural explorers.

Lolab Valley, Kashmir: Nestled in the lap of the mighty Himalayas, Lolab Valley is a hidden paradise known for its picturesque meadows, dense forests, and gushing streams. This lesser-explored valley offers a peaceful environment for those seeking solace and natural beauty.

Aharbal Waterfall, Kashmir: Located in the southwestern part of Kashmir, Aharbal Waterfall is a stunning cascade that remains relatively unexplored by tourists. Surrounded by lush greenery, the waterfall plunges from a height, creating a mesmerizing sight. Visitors can also indulge in activities like trekking and camping in the nearby forests.

Hemis National Park, Ladakh: Nestled in the eastern part of Ladakh, Hemis National Park is a haven for wildlife enthusiasts and nature lovers. It is home to the elusive snow leopard, Tibetan wolves, golden eagles, and many other rare species. Exploring this biodiverse landscape offers a unique opportunity to witness the incredible flora and fauna of the region.

Pahalgam, Kashmir: While Pahalgam is not entirely unknown, it often gets overshadowed by the popular tourist spots in the region. This picturesque town is surrounded by dense pine forests, pristine rivers, and towering mountains. Pahalgam offers a serene atmosphere and serves as a base camp for treks to the stunning Kolahoi Glacier.

Turtuk, Ladakh: Tucked away in the remote Nubra Valley, Turtuk is a small village known for its breathtaking beauty and rich cultural heritage. This region was opened to tourists only in 2010, making it a relatively unexplored destination.
5 special places of Jammu region include:

Bhaderwah Valley: Located in the Doda district of Jammu, Bhaderwah Valley is a hidden gem that boasts picturesque landscapes and lush green meadows. Surrounded by snow-capped mountains and dotted with glistening streams, the valley offers a serene and tranquil ambiance. It is an ideal destination for nature lovers, hikers, and adventure enthusiasts.

Kishtwar: Nestled in the lap of the mighty Himalayas, Kishtwar is a remote and untouched destination in Jammu. Known as the "Land of Sapphire and Saffron," it is famous for its natural beauty and cultural heritage. The Chenab River flows through the region, adding to its charm. Kishtwar is a paradise for trekkers, offering various trekking routes amidst scenic landscapes.

Mansar Lake: Situated approximately 62 kilometers from Jammu city, Mansar Lake is a hidden gem known for its tranquility and religious significance. Surrounded by thick forests and hills, the lake is considered sacred and attracts devotees during festivals. Visitors can enjoy boating in the pristine waters, explore the ancient temples around the lake, or simply relax in the serene ambiance.

Sanasar: Perched at an altitude of 2,050 meters, Sanasar is a lesser-known hill station in the Jammu region. It offers breathtaking views of the surrounding mountains and lush meadows. The place is perfect for adventure enthusiasts, as it offers opportunities for paragliding, trekking, and camping. The picturesque landscapes and cool climate make it an ideal getaway for nature lovers.

Basohli: Located on the banks of the Chenab River, Basohli is a historical town in the Kathua district of Jammu. Known for its rich cultural heritage and ancient temples, Basohli is an offbeat destination that showcases the vibrant Pahari art form. The Basohli miniature paintings are famous for their intricate detailing and vibrant colors. Visitors can explore the historical monuments, visit the Basohli Fort, and immerse themselves in the artistic charm of the town.