Last Updated on September 22, 2020 at 4:17 pm
Demand for Sixth Schedule by Ladakhis has led to boycott of the crucial Ladakh Autonomous Hill Development Council (LAHDC) elections that are scheduled on October 16.
The apex body demanding sixth schedule for Union Territory of Ladakh has stated in a press statement that it would boycott the LAHDC polls and run a campaign asking common people not to take part in the elections.
The move is going to make a dent in the vote bank of BJP in the arid desert of Ladakh as the party had gained a strong ground after the region was made a UT after its bifurcation from Jammu and Kashmir.
The apex body of People's Movement for Sixth Schedule for Ladakh announced that it would boycott the LAHDC polls.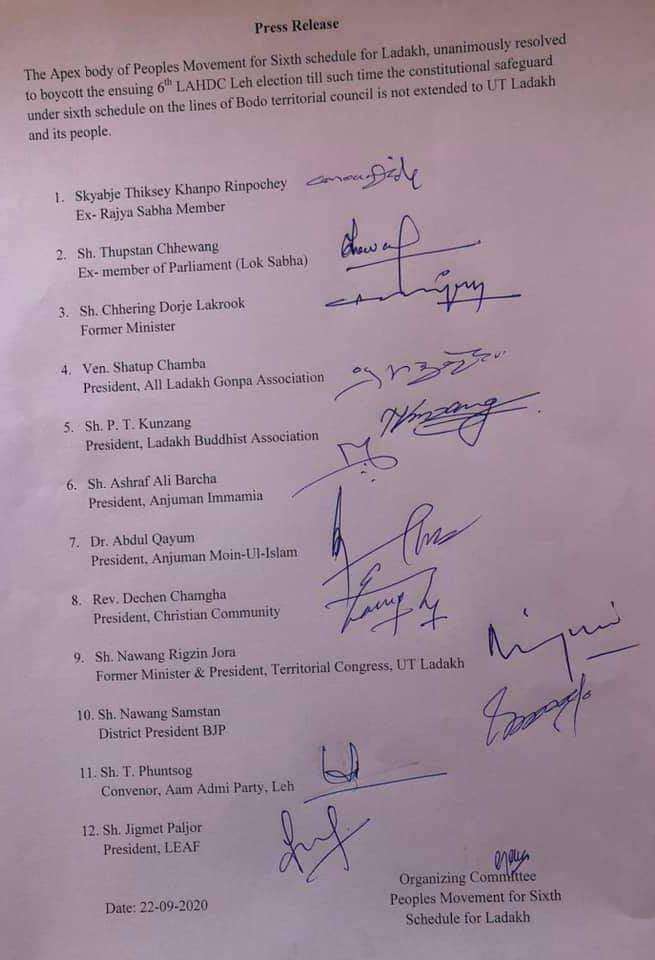 Rigzin Spalbar Former Chairman of LAHDC Leh in a press statement said "since COVID-19 pandemic and casualties were on an upsurge, compelling the Chairman and Deputy Chairman LAHDC Leh to approach LG Ladakh in writing to take urgent measures to control the rising numbers of positive cases by suggesting a bi-weekly lockdown; it was expected that elections to constitute the 6th LAHDC Leh would be postponed. Inspite of that, the election were still announced".
He said that besides the worrisome status of the Pandemic, at present the entire Ladakh is in a state of uncertainty over the preservation of its unique tribal identity, habitats and ecosystem vis-a-vis its future existence and survival due to lack of constitutional safeguard in the form of the 6th Schedule.

"I am of the firm opinion that holding the elections to LAHDC Leh, without extending the relevant provisions of the 6th Schedule of our Constitution, (which empowers the Councils by vesting it with legislative powers) is meaningless. The democratically elected Council, representing the popular will of the people of Ladakh, cannot continue to be a toothless & irrelevant ostentatious body like it was made to be so in the wake of the formation of UT Ladakh" he said.
Rigzin Spalbar also said participation in the LAHDC Leh elections and voting in it, "while now the demand for the grant of the 6th Schedule has got an unprecedented overwhelming support, may not serve our cause. It is only in the best interest of the demand for the 6th Schedule that we do not participate at all in the Elections unless our demand is met.
Therefore, I fervently appeal to the Apex Body of the 6th Schedule Movement to consider giving a call to not to participate or vote in the forthcoming elections to LAHDC Leh to strengthen the demand for grant of the 6th Schedule of our Constitution to Ladakh. It is to be noted that all socio-cultural, religious, trading, students & political organisations of Leh Ladakh have already extended their full support to the Apex Body led by the veteran leaders".