Last Updated on January 8, 2021 at 3:39 pm
An outbreak of avian influenza or bird flu at Pong Dam in Himachal's Kangra district has caused the administration to closely monitor the Gharana Wetland located along the international border in RS Pura sector of Jammu district. It attracts migratory birds in large numbers.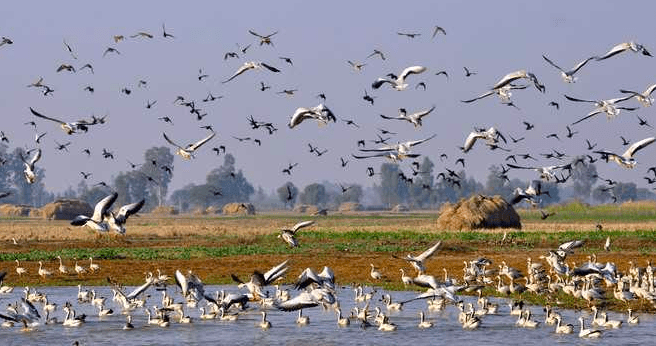 The ICAR-National Institute of High-Security Animal Disease has stated that the H5N1 virus has caused many deaths of migratory birds in Pong Dam.
Anil Atri, Jammu's wildlife warden said that migratory birds in thousand belonging to various countries fly together to Gharana Wetland. After many birds died in Kangra, animal husbandry department teams collected 25 droppings samples and then sent those samples to Disease Diagnostic Laboratory in Jalandhar for testing. Reports of those samples have not yet arrived but as of now, migratory birds at Gharana are free of any symptom of avian flu. These birds are being monitored all the time and there is no sluggishness among them. There are 2,000-2,500 migratory birds at the wetland.
Atri says that field staff has been instructed to constantly monitor these birds and isolate those who are acting sluggish or showing symptoms of bird flu. Moreover, people in the surrounding villages are instructed that if they notice any dead bird, immediately inform authorities and not touch them.
On Wednesday, five to eight dead birds were found in the Panj Peer area of Rajouri. Rajouri district commissioner Nazir Sheikh said that they have directed the concerned department to look into it. They have collected their samples and are testing them. People found around 150 dead crows on Dhar Road near Kendriya Vidyalaya in the Udhampur district on Thursday morning. It created panic among them.
A senior official said that it seems like these birds lost their lives because of intense cold. He said that they have sent the body samples for testing and exact reason of these birds' death will be known as soon as they get reports.
More than 170 species of birds take shelter in Gharana Wetland Conservation Reserve in the R S Pura sector near the International Border. These birds include bar-headed geese, gadwalls, Indian moorhens, black-winged stilts, purple swamp hens, common teals, cormorants, egrets, and greenshanks.
Thousands of birds, including endangered ones, originally from Central Asia visit the wetland during the winter season.