In Punjab and Haryana, roads were blocked and markets remained closed on Tuesday because of the "Bharat bandh" called by the protesting farmer. The shutdown was backed by most Opposition parties and trade unions. It also had some minor impact in states like Odisha, Maharashtra and Bihar but in other parts of the nation, it failed to gain many supporters.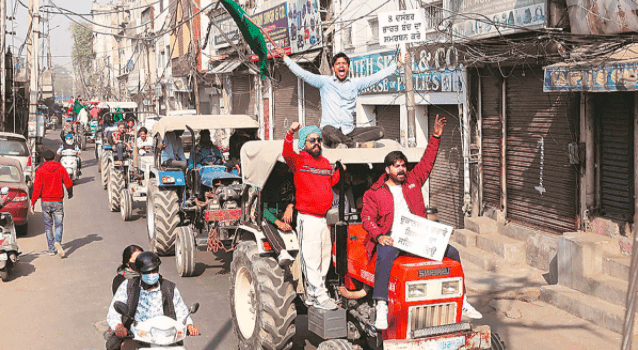 In states of Punjab and Haryana, shops and commercial establishments were closed. Many fuel pumps were also found closed. In both these states, farmers assembled at highways and other key roads since morning.
Sukhchain Khaira, Punjab Civil Secretariat Staff Association president, said that over 50,000 government employees took mass casual leave in support of the protest. In neighbouring state Haryana, many key roads including national highways were blocked for more than three hours. Officials called the bandh peaceful.
Farmer unions who are a part of the protest had threatened to block national highways and occupy toll plazas across the nation from 11 am to 3 pm during a "chakka jam" protest. In many places in West Bengal, Bihar and Odisha, protesters also blocked railway tracks.
In West Bengal, the Trinamool Congress government joined the Congress and the Left in supporting the shutdown but stayed away from enforcing it. the response was mixed in the state. Railway tracks were blocked in many places and there were sit-ins on major roads.
In Jehanabad in Bihar, the Patna-Palamu Express was obstructed for a few minutes until the protestors were chased away by the police.
Train services were also impacted in Odisha. Activists of farmers' organisations, trade unions and political parties sit on tracks in Bhubaneswar, Cuttack, Bhadrak and Balasore and stopped trains from following their usual schedule. In other parts of the state, many markets and offices were shut and Congress and Left supporters blocked major roads.
The All India Kisan Sangharsh Coordination Committee (AIKSCC) released an official statement that over 50 lakh people participated in 20,000 places and made the Bharat Bandh "successful".
Gurnam Singh Chaduni, BKU president, Haryana, addressed a press conference at Singhu. He said that the organisation wants to thank everyone for participating in the protest and making it a super bandh. The farmers demonstrated that they can carry out protests in a peaceful manner.