Last Updated on February 1, 2021 at 11:54 am
Dogri poets are protesting against the organizers of "Jashn-e-Jamhuriya" for not inviting them for the poetic festival. The Jammu and Kashmir Academy of Art, Culture and Languages (JKAACL) organized this event to celebrate the Republic Day.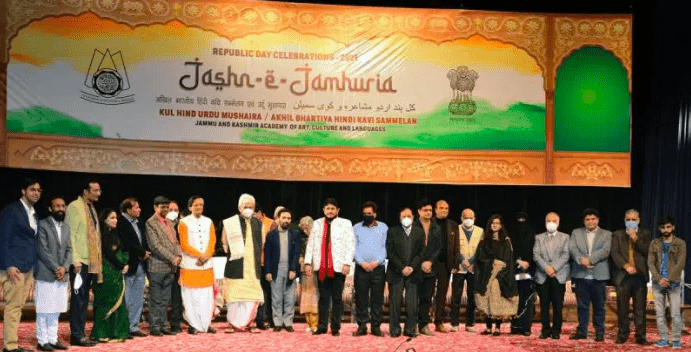 One of the poets said that even though the Dogri language has been recognised as an official language of J&K UT but the language is always sidelined. The event organisers invited many renowned poets of Urdu and Hindi languages to attend the 2-day function held at General Zorawar Singh Auditorium Jammu but they didn't invite any Dogri poets to be a part of the program.
Gyaneshwar Sharma, a renowned Dogri poet, said that if the event organisers had invited Dogri poets then it would have been very beneficial for the upliftment of Dogri poetry. As Dogri language has been recognised as an official language of the UT then the government and the organising agencies should make sure that poets of Dogri and other languages of the JK UT are included in the event.
He also mentioned that Jammu has some exceptionally good quality work on Dogri language and poetry which needs more encouragement from the administration.
Another Dogri poet said that they were expecting the authorities to invite Dogri poets and provide them opportunity to show their art in the poetic festival as the programme was being held in Jammu. But, unfortunately, the authorities didn't think them important enough to be a part of the event and the invitations were limited to Urdu and Hindi poetry only. The JKAACL could have promoted Dogri but they didn't take any initiative to promote Dogri poetry on such a huge platform.
According to the sources, JKAACL spent a lot of money on organizing this programme. The Urdu and Hindi poets were invited from across the nation to participate in the program. These poets were honoured and felicitated with pashmina shawls and mementoes. Every poet who participated in the program was given Rs 25000 for participating in the programme. Moreover, JKAACL also covered their travelling allowances and accommodation charges.