Last Updated on January 26, 2021 at 7:03 pm
Kalahoi Green Heights owner, Waseem Shah decided to build an Igloo café along with his hotel so that visitors can experience European feel in Kashmir.
His café is 22 x 12 feet in dimensions and can accommodate more than two dozen people at a time. His café features accessories from snow tables to snow chairs.
He says that this idea came across his mind 3 years back when he visited Switzerland. So, he thought about this idea of a snow restaurant measuring 22 feet in diameter and 12.5 feet in height. It can contain four tables with sixteen guests at maximum.
In building this café, Shah took 15 days and employed 20 people. He says that the concept of snow restaurant is very novel to India. There are quite a number of snow cafes in Finland, Canada, and Switzerland. The walls are 21 inches thick and a huge amount of labour was required in building them. The outside dimensions of this restaurant are 26 feet in diameter and 15 feet in height. Around 20 members were required to successfully achieve this task. These members worked in two shifts.
The café has an array of beautiful lights and fur kept on snow tables to keep customers warm. Shah is expecting the Limca book of records for building Asia's biggest igloo cafe.
He says that the café has become an attraction point for people and tourists. They enjoy its food and click selfies as the cafe is very unique in itself. He is planning to build an even bigger snow restaurant next year to break the Guinness Book of World records. He wishes to witness Kashmir on a level of European destinations in terms of tourists attraction.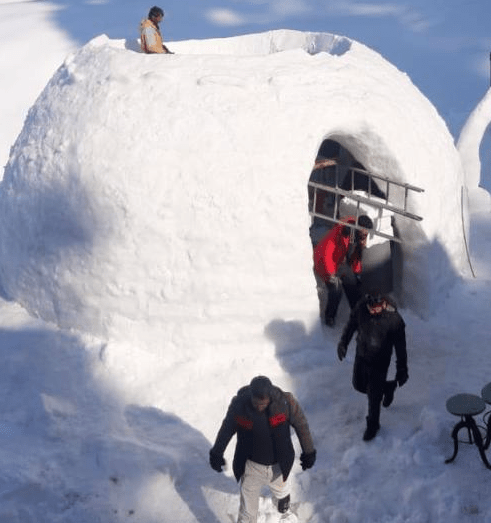 Tourists are equally excited to witness the first snow structure at Gulmarg. Saurabh Banerjee, a tourist from West Bengal, said that he and his tourist partners have seen Igloo for the first time in their lives. They are extremely excited to witness it. He says that it is for the first time in their lives that they are sitting on the snow chairs and enjoying food inside the igloo.