Last Updated on December 28, 2022 at 6:46 pm
On the eve of 26th January and considering previous history of interception of terrorists during this season, the Border Security grid was strengthened in Jammu Province.
Two weeks back a huge consignment of arms and ammunition was also recovered from a truck in Narwal area of Jammu.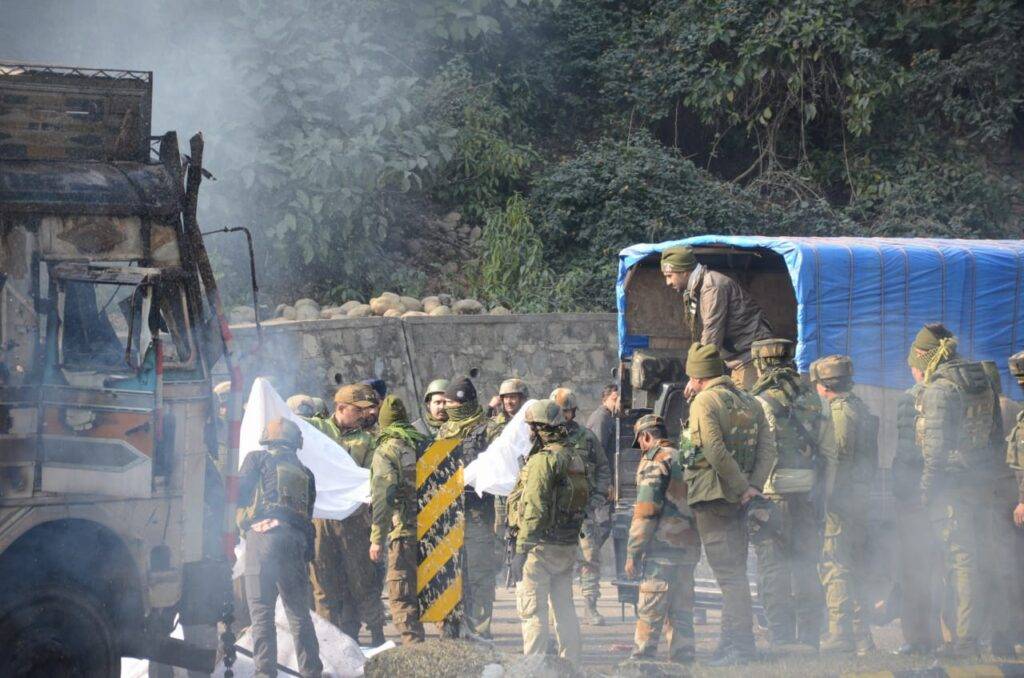 Considering these Development, a high alert had been sounded in all districts of Jammu province. Today, at around 7:25 am, suspicious movement of a truck was observed on the NH in Sidhra area.
This truck was intercepted by a joint team of Police and Army at Sidhra Naka. During checking of the vehicle, the hiding terrorists fired upon the security forces and an encounter started. Taking advantage, the driver of the truck fled away from the spot. In the encounter which followed, four terrorists were eliminated and a huge quantity of arms and ammunition was recovered.
The recoveries include 7 AK-47 rifles, 1 M-4 rifle, 1 pistol, 14 Grenades around 50 thousand in cash along with ammunition and pouches. The Truck owner is yet to be identified. The number plate of the truck has been found to be fake. The engine and chassis number has also been tampered and help of forensic teams will be sought in this regard. A manhunt has been launched to apprehend the driver. Search is being done at Bus stands, railway stations and market places. All Nakas have been alerted.
The scrutiny of seized items is being done to obtain clues about the identity of killed terrorists and the driver. Other scientific and electronic evidence is being collected to identify the terror group to which the terrorists belonged and to identify the OGW support structure of these terrorists.