Last Updated on June 10, 2023 at 6:23 pm
In a heartfelt celebration of their love, Varun Tej and Lavanya Tripathi exchanged engagement rings on June 9. The couple delighted their fans by sharing pictures from the midnight ceremony, showcasing their beautiful rings.
Varun looked absolutely dashing in a white kurta pyjama, while Lavanya looked lovely in a charming pistachio-hued saree. Among the esteemed guests on the list were Varun's cousin, Ram Charan, and his pregnant wife, Upasana Konidela.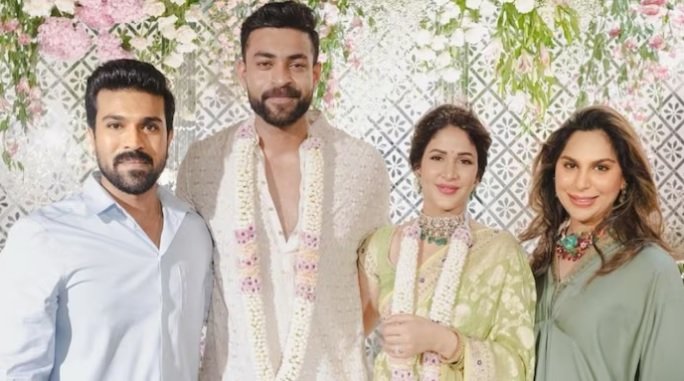 The parents-to-be, Ram Charan and Upasana Konidela, were seen arriving at the engagement ceremony and took to Instagram to congratulate the couple. Ram shared a delightful picture with Varun, Lavanya, and his wife, Upasana, expressing his love and best wishes. The RRR actor wrote, "Varun & Lavanya, love you guys. Heartiest congratulations."

Mom-to-be Upasana Konidela also shared her excitement on Instagram, posting similar pictures and warmly welcoming Lavanya into the Konidela family. She expressed her anticipation for the upcoming wedding and wrote, "Welcome to the Konidela family, dearest Lavanya… Looking forward to celebrating my dearest thodi kodalu. Varunnnnnn soooooo happy for you (sic)."

Varun Tej's uncle, Pawan Kalyan, graced the engagement ceremony and was captured in viral pictures gifting a bouquet to the couple. Reports have surfaced revealing that the couple plans to tie the knot by the end of this year. In the meantime, the private engagement took place on June 9 at Varun's luxurious residence in Hyderabad.

The beautiful engagement ceremony of Varun Tej and Lavanya Tripathi marked the beginning of their journey together as they exchanged rings, surrounded by their loved ones. Fans eagerly await the couple's wedding, as they embark on this joyous chapter of their lives.